So a interesting thing happened in the late wee hours this morning. One of our very first members of the site, Wishfuldreamz had posted a drop that had a lot to say about Cern. I obviously read it and then moved along. Not even 10 minutes later I came across all Im going to share with you below.

First lets get the Swampy stuff out of the way. By Swampy stuff I mean whats on the agenda for the House and the Senate.
Note the Times in he graphic:
There are 11 things listed before noon, starting at 3:00 am est. Again pay attenion to the Times below. Who is watching at 3:00am?
Out of the 11 event, 4 of them concern  CERN. The first event for CERN? 5AM est.
What is Particle Zoo? Link: Particle Zoo
At 8:00 am est, we have the 2nd of Four Cern related events/Lectures. What is CERN Open Lab?
Link: Open Lab
Now we come to the 3rd event/lecture about CERN. This follows the above by a half hour. Presented at 8:30am est. Computer Challenges. Have they now surpassed their best computer capabilites? Scary to consider if so. Strange to imagine, but when you consider the subject matter, it could be possible. If so then what?

Last but not least. The 10:00am est Meeting. The Collider Run #3. This one concerns me. Last time they did a run, they killed a few scientist if you may recall. It was a few years ago and had a LOT of damage.
Interesting Day ahead of us to say the least. Why all these meetings crammed into this morning? Are they cover for their cover and what they are really up to? Like I said, the last run they did with this didnt end well. What damage could happen this time? Will we even know?

Link: Hadron Collider Run #3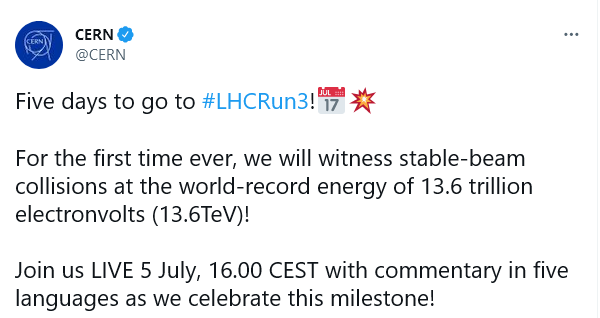 So where do you see this all going? I know the thought looks very good on paper and who knows how much has been spent on this thing and lives lost over time from the beginning of this research.
Im sure some of you may have seen those crazy cloud formations that form over the facility when it's fired up. There are plenty of just crazy stories that follow the days after the test runs. Maybe not so crazy after all eh?
Do you think we should shut it down all together? Trying to go places we dont belong now? Like monkeys with a lighter they have never seen before? Eventually that monkey WILL light the lighter. The odds arent so great in our favor with all it entails. I have no problem "Boldly Going," but Cern can/could deliver some Huge consequences. The problem with that? We wont Know until afterwards. I hardly think"Whoops" is going to cover it

Let me hear your thoughts on this!
Like my Work? Buy me a coffee???
I could really really really use the help now and I would be so ever grateful. People always tell me to ask for help when I need it. I rarely ever do that because Im the worst self promoter out there. As much as I hate it, I do HAVE to ask it now. It will be soooo appreciated and hopfully I will be able to keep the site up for another month and be able to eat.
Thank you so much :)
Buy Yig a Coffee?
Or you can use my PayPal if it is easier for you